At the beginning of November 2019, several special guests visited the headquarters of Binjiang Property. They are proprietor representatives of Grand Palace. That day, they gratefully sent a red silk banner which read "Serve Proprietors with Whole Heart" to Binjiang Property who has been serving all proprietors of Grand Palace. However, it is never an easy thing for Binjiang Property to get such heavy praise from all proprietors of the community.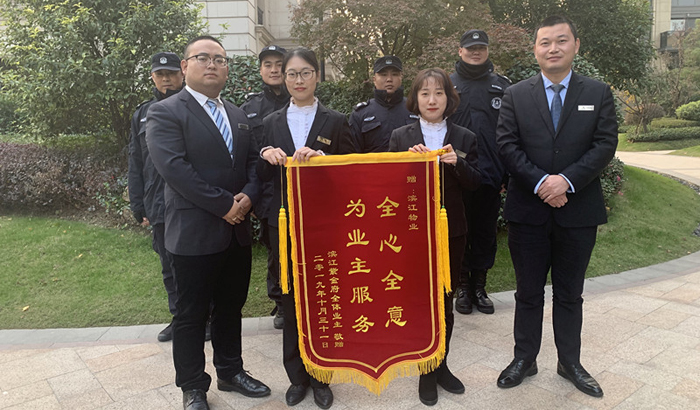 "Property management staff of Grand Palace really had a hard time." This is how Mr. Qian and Mr. Bian, both are proprietors of Grand Palace, think about Grand Palace's property management staff. For various reasons, proprietors of the community have been paying strenuous efforts to obtain the property ownership certificate since the delivery of Grand Palace in April 2016, during which period Binjiang Property has been adhering to the enterprise philosophy to comfort every proprietor with warm services.
"The day finally came." said proprietors of Grand Palace, full of emotion, when they finally got their red property ownership certificate in late August of 2019 after three years of efforts and waiting, and some even cried tears of excitement as getting the certificate.

After delivery of Grand Palace, there were some problems about garbage disposal and hardware upgrade due to the particularity of the community. But Binjiang Group and Binjiang Property always think the way the proprietors do and offer the maximum support and cooperation to the community to make it a more beautiful, more comfortable and more peaceful home to live.

Proprietor Mr. Qian told, "Binjiang Property will always put proprietor's interests on top. Binjiang Group and Binjiang Property have assumed and fulfilled their responsibilities." Mr. Bian also told that over the past three years, proprietors of the community have got a deep feeling of Binjiang Property's humanistic care. On the silk banner granted by all proprietors of Grand Palace to Binjiang Group, it solemnly read "Stay True to Original Aspiration, Put Customer and Quality at First", which are words given by proprietor representatives upon deliberation and express their unchanging original aspiration of choosing Binjiang Group's products.

Property management services, such as day-and-night guarding by Order Team members, greetings from stewards, community activities strengthening neighborhood communication, and maintenance of the community's beautiful environment, provide proprietors with a harbor which constantly arouses proprietors' yearning for home, longing for family members, as well as respect for property management personnel.

This silk banner is filled with all proprietors' gratitude and is the first great gift that Binjiang Property Grand Palace Service Center ever received from its proprietors since the delivery of the community. It shows proprietors' recognition and acknowledgement to property management staff's efforts over the past three years, and also spurs Binjiang Property to provide better service in the future.