Four-year Continuing Love! Proprietors of Myriad Star Spontaneously Raised 30000 Yuan to Bring Coolness to Property Management Staffs
As "Lekima" went away, Myriad Star recovered its tranquility. But soon, it got bustling again, in a good way. It was because of proprietors' coolness giving activity which really moved property management staffs. As to this year, proprietors of Myriad Star have organized this activity for four consecutive years to express their appreciation for front-line property management staffs' efforts and endeavors to guard the home despite the scorching heat.
Proprietors of Myriad Star Phase II spontaneously initiated the contribution since August 1st. In the following ten days, 92 proprietors participated in this activity and totally 17666 yuan was collected, which was finally turned into a red packet and a boxful of Ice Tea for each property management staff. Deeply moved, property management staffs of Myriad Star Phase II repaid proprietors with folding fans, carnations, and some snacks from Qiandao Lake. The air of the activity site was filled with love.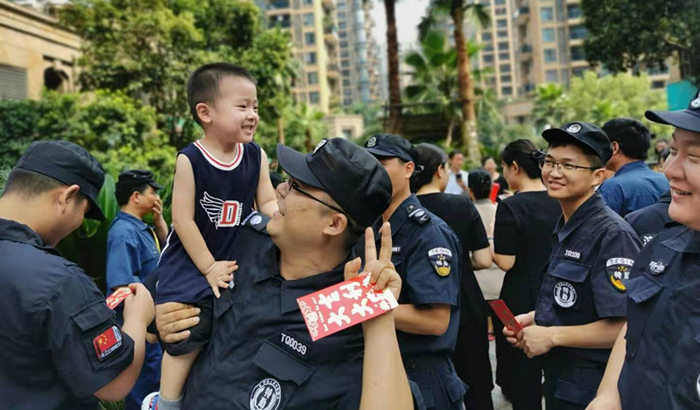 At Myriad Star Phase III, 80 proprietors raised 8000 yuan within only four days. With this sum, they bought white fungus, drinks, towels, and other articles which were all given as gifts to the front-line staffs sticking to their posts in the sun on August 11th to appreciate their efforts at protecting the common home and creating a happy life.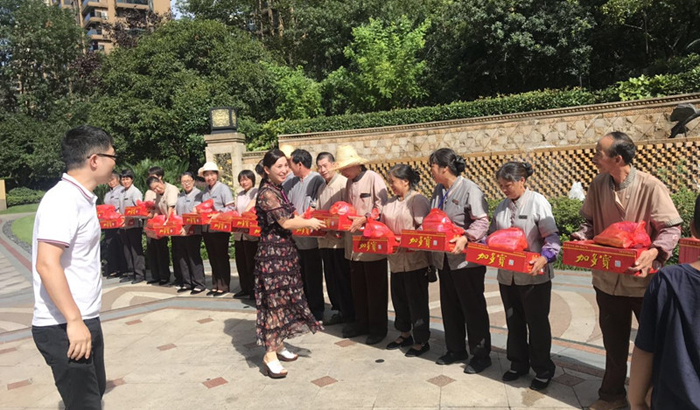 On August 21st, 16 proprietors representatives of Myriad Star Phase I visited and gave out 60 cases of Nongfu Spring, 20 cases of Cola, and 20 cases of Ice Tea to the property management staffs sticking to the front line in the hot weather, purposing to bring them some coolness. The proposal of "Cool the Summer of Home Guardians" was initiated on August 15th and got active responses from more than 40 proprietors. Finally a total of 5750 yuan was raised in the following days. The love from proprietors turned into a stream of water flowing into and comforting the hearts of property management staffs. On the activity day, property management staffs of Myriad Star Phase I also showed their thankfulness to proprietors with flowers in return for the love received.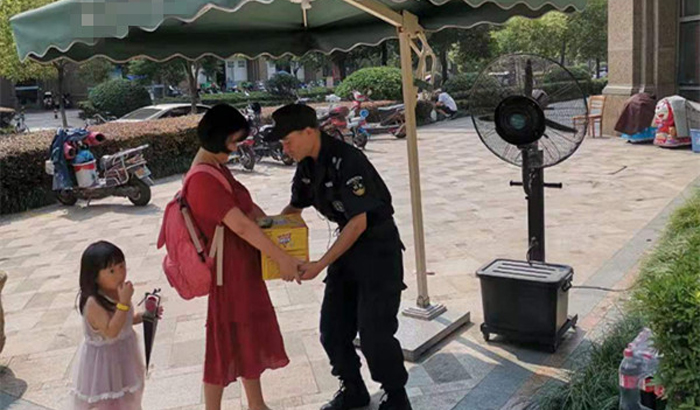 What does the picture of "The Family of Proprietors and Property Managers" really convey? Property management staffs guard the home with sincerity; proprietors transmit love year by year. "Hardships and tiredness are nothing and all our hard work and efforts pay off when we get recognition and acknowledgment from our proprietors." Impressed and touched by over thirty thousand yuan raised by more than two hundred proprietors, Director Meng of Myriad Star Phase III expressed his feelings with such simple words which voiced the mind of all property management staffs.
The coolness brought by proprietors to property management staffs is just like a surprising and pleasant rainbow cross the sky above the community. Property management staffs do appreciate proprietors' understanding and care and have nothing in return but services of higher and higher quality.
Despite hot weather, Director Yao of Myriad Star Community as a representative of Myriad Star Community Party Branch also visited and comforted the front-line property management staffs with refreshing drinks. Property management staffs of Myriad Star will make persistent efforts to improve the community quality and make this community a better place to live!