On February 28th, secretary Tang from Chenghuangmiao Community, Hangzhou Qiantang New Area specially visited River Star to give a letter of commendation to the frontline property management staff to praise Binjiang Property's hard work on epidemic prevention and control and acknowledge the contribution and efforts of property management staff. Director Zhou of River Star service center mentioned that the property management team felt grateful for the recognition and encouragement of leaders of the New Area, Subdistrict, and Community and would make continuous efforts to live up to people's expectations.

During this fight against the epidemic, the property management team of River Star actively responded to the call of Hezhuang Subdistrict and cooperated with the Community to stand out and implement the responsibility of epidemic containment strictly and practically.

As an epitome of the whole Community, each residential quarter shall be strict with epidemic containment without any omissions. In the letter of commendation, the Community especially mentioned that Binjiang Property well kept the gate of the residential quarter and the door of proprietors with rigorousness; cooperated with the Community to enhance the power of joint containment; implemented carpet inspection, all-round publicity, and comprehensive disinfection; conducted strict "question-measurement-registration" three-step work at accesses; and that stewards well done the purchase management and control of quarantined households.

The Neighborhood Committee of Chenghuangmiao Community, Hezhuang Subdistrict expressed thanks to 27 property management people of River Star who have been sticking to their posts of epidemic containment and showed their diligence, tenderness, attentiveness, and responsibility during the epidemic period.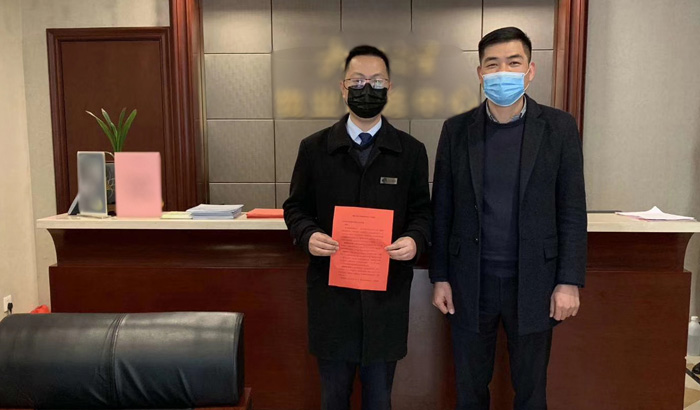 Meanwhile, the property management team of River Star is also grateful to Chenghuangmiao Community for their continuous concern about the safety of property management staff. Ever since February, the Community has continuously supplied over ten masks every day and over thirty protective gloves every week to gate sentries and order team members. It has also offered 4 forehead thermometers as well as food and materials to the property management team since the epidemic outbreak, providing sufficient material support for the frontline property management staff to win the battle against epidemic.