Riviera Mansion, Myriad City, and Sunshine Coast, etc. also Joined the Team of Nostalgia
Following the "Summer Night Breeze" outdoor movie night organized by Binjiang Property's Planning Department in August, some other residential quarters such as Riviera Mansion, Sunshine Coast, Myriad City, and Star Mansion also joined the team of movie nostalgia in September and attracted many proprietors.

The service center of Riviera Mansion played the popular Ne Zha and also provided old-style ice-lollies for proprietors to better arouse the sense of nostalgia. At Myriad City and Star Mansion, Looking Up and Zootopia were played respectively to satisfy proprietors' need for movie watching.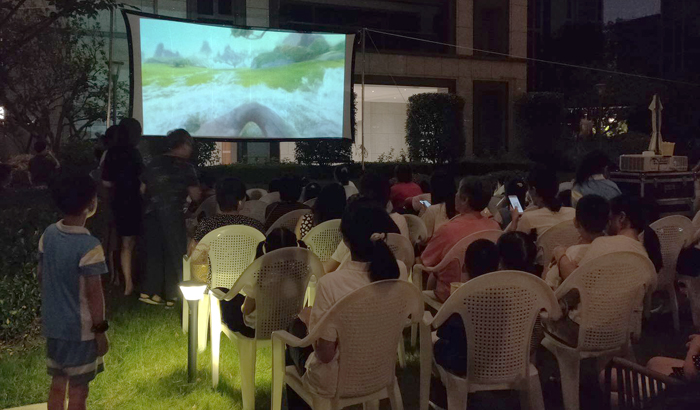 On the evening of September 12th, Saturday, the service center of Sunshine Coast also prepared an outdoor movie for its proprietors. The property management staff set up the screen on the lawn and prepared popcorn, cola, and snacks as well. In the moonlight, proprietors enjoyed the phenomenal movie Ne Zha together.

Children were definitely the happiest ones. A boy could hardly wait to be part of the event that he's only heard in his grandma's story and rushed down excitingly without having his dinner.

An octogenarian lady sent a message and said, "The outdoor movie was amazing. My grandson was reluctantly persuaded by his mom to stay downstairs for 10 minutes, but was then attracted by both the movie and the food prepared and didn't want to go back home!"

It is exactly what property management staff expect to see - they want to bring some happiness to kids and make their childhood more colorful.