Real Elevator Safety Training of Binjiang Property Took the Mystery out of the Elevator Structure
Elevators have now become an indispensable "transporter" in our daily life. But do you really know how to use them correctly and safely, and do you want to find out their true structure and operating principles?
The engineering technology department of Binjiang Property has carried out a systematic elevator safety knowledge and management training since September 12th for property management staffs of all service centers, totaling to nearly 200 persons, in four batches. The training spanned eight days, and a two-day training synthesizing learning and practice was arranged for each batch.
Trainees also included experienced property management directors and assistant directors, customer service directors, order directors, as well as engineering directors who are quite familiar with elevator knowledge. Despite different degrees of understanding on elevator, all trainees were eager to learn more about elevator safety.
At the class opening ceremony, Feng Guanjun, the operating department director of Rong'an Elevator Training Base of Hangzhou Vocational & Technical College, gave an introduction to the training base and the training content. Besides, Jin Yuemin, the engineering technology department manager of Binjiang Property, explained the rapid development of Binjiang Property and current elevator management situation, and highlighted the increasing significance of elevator management. He stressed that elevator safety should always be at the first place and urged to strengthen safe and efficient normal elevator management, emergency rescue response and organization, and fault debugging and tracing methods so as to create a safe, comfortable, and pleasant elevator environment for proprietors.
Large-scale practice rooms for elevator training and yellow-based safety warnings in Rong'an Elevator Training Base aroused trainee's curiosity about internal structure of elevators and enhanced their learning motivation apparently.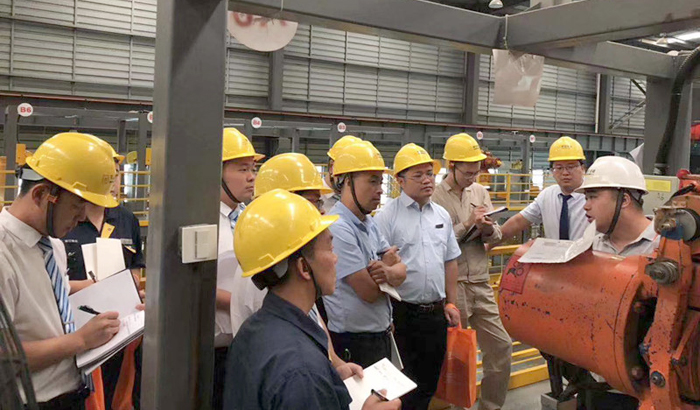 To learn the structure and the operating principles of elevators is to learn eight elevator systems, namely, traction system, guide system, electrical drive system, electrical control system, weight balance system, car system, door system, and safety protection system, which are the core of an elevator. These systems were displayed in the practice rooms intuitively and directly, offering a precious close learning opportunity to trainees.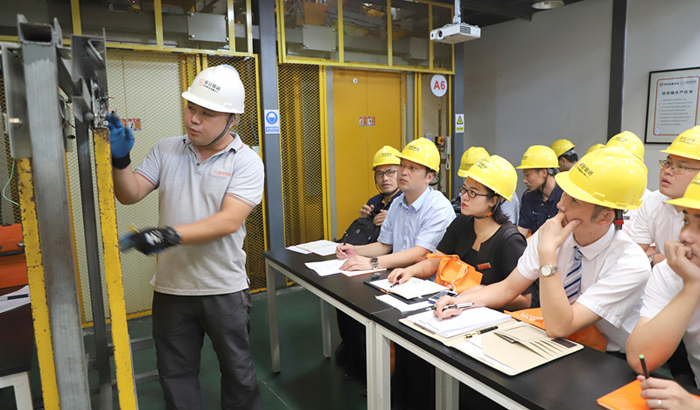 Hangzhou is still very hot in September. Despite the heat, trainees each wore a helmet and listened to the trainer's vivid explanation in the practice room. They also went deep into discussion of differences between widely-used gearless traction machines and geared traction machines and their advantages and shortcomings, as well as names and operating principles of parts of electrical control system. Trainees learned a lot through this training and laid a solid theoretical basis for future elevator management in the community.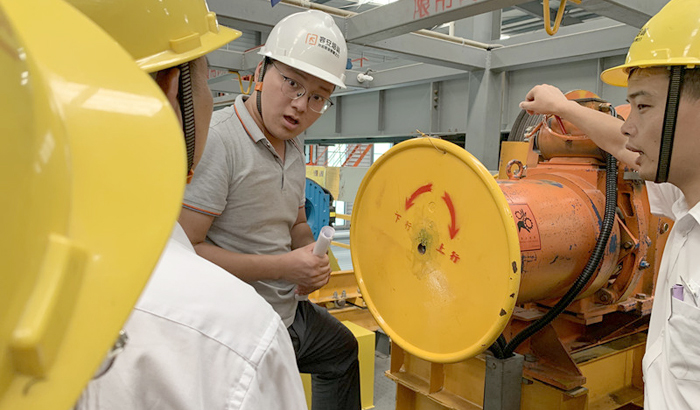 At the training spot, trainers and trainees questioned each other and had frequent interactions. When the trainer posed a question about the way to implement emergency elevator rescue, trainees replied fluently, "To conduct a five-party conversation, notify the maintenance unit instantly, and comfort proprietors." Trainees' immediate performance was recognized by the trainer. Such solid foundation is a result of the emergency elevator rescue drills organized by Binjiang Property at least twice a year.
Besides, learning of relevant laws and regulations and analysis of elevator accidents from a point of preventing falling and clamping were also arranged to enable trainees to understand another side of the elevator. Latest law knowledge and thought-provoking cases can help trainees avoid the risk of proprietors using elevators as far as possible from a more effective management prospective when they get back to work.
Contents of this elevator safety training were determined fully in line with the actual demands for daily community management of Binjiang Property and gave consideration to practicability, operability, as well as reflection. Experience acquired from this training will surely play a significant role in future elevator safety management and safely elevator use for trainees as both new learners of elevator knowledge and experienced elevator managers.