Having Laba porridge on Laba Festival is a tradition of Chinese people. The last month of a year is called "La (腊)" which contains the meaning of replacing the old with the new and building on past successes to further advance the cause. As the known saying goes, "Laba brings the new year." 2020 is coming to us closer and closer and we are going to realize our little targets one by one through our efforts.

On the morning of January 2nd, 2020, property management staff of The City Star prepared about 650 bowls of steaming Laba porridge for proprietors. Proprietors consciously lined up for Laba porridge, chatting about Laba traditions while waiting orderly. For physically inconvenienced elderly proprietors, stewards personally visited them with Laba porridge, making proprietors feel the warmth from the community. Property management staff also organized several activities such as creative five-grain painting and free community clinic on the site, conveying a rich flavor of new year and good wishes.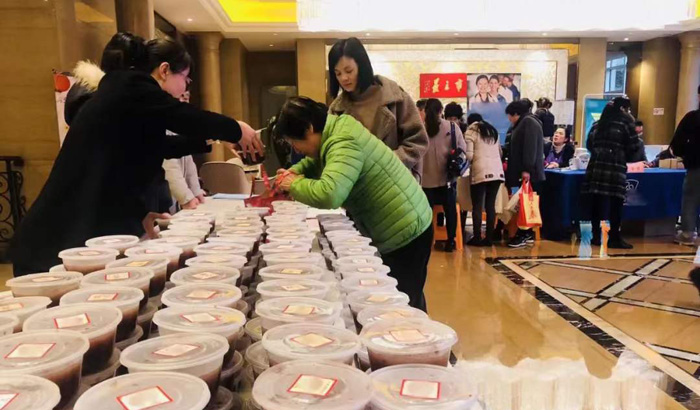 At Lake Villa, property management staff prepared delicious Laba porridge early on that morning. At about 8 o'clock, one Laba porridge distribution team was distributing the porridge at the gate while the other team was distributing from door to door. Over 400 bowls of Laba porridge brought warmth to proprietors in the cold winter day, and property management staff's hearty devotion also received praises and recognition of proprietors.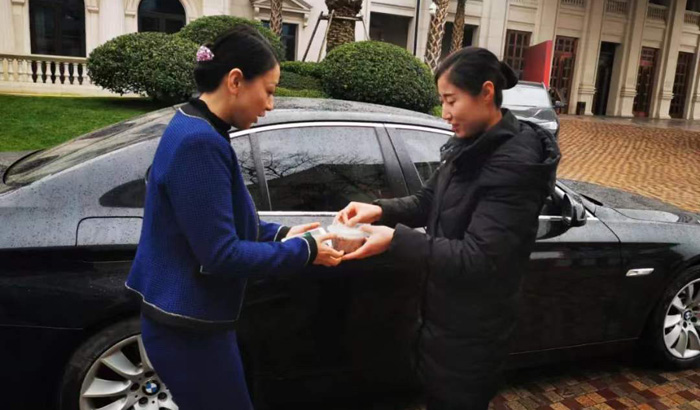 The property service center of Golden Dawn Phase I also cooked fragrant and glutinous Laba porridge, from which we can not only get a glimpse of the folk customs and traditions, but also feel Binjiang Property's care for proprietors.

Property management staff got up very early and started preparing for Laba porridge before 2AM that day. They selected, washed, soaked ingredients, and then put them into the boiler. After more than 2 hours of cooking and constant stirring, property management staff finally made sweet Laba porridge ready for proprietors on that morning. In addition to porridge distribution on the site, property management staff also personally visited elderly people living in the community alone and provided them with warm Laba porridge. Through their efforts, property management created a festive atmosphere for proprietors.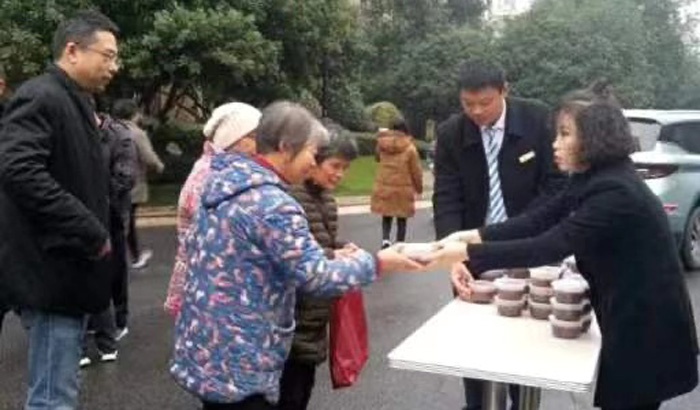 Chef Zhu started cooking Laba porridge early at 4 in the morning in the dining hall of service center of Shangyu Long Shan Guan Di, and two large pots of steaming Laba porridge with red dates, peanuts, red beans, green beans, Job's-tears seeds, grapes, lotus seeds, and rice in it were ready at 7 o'clock.

At 7:30AM, property management staff gathered at west gate of the community on time to distribute Laba porridge to proprietors and also upfitters whose words of thanks and smiles also warmed property management staff in turn. "Actually I'm too busy today to prepare Laba porridge for Laba Festival, and it is such a pleasant surprise to really have it in our community!" said a proprietor.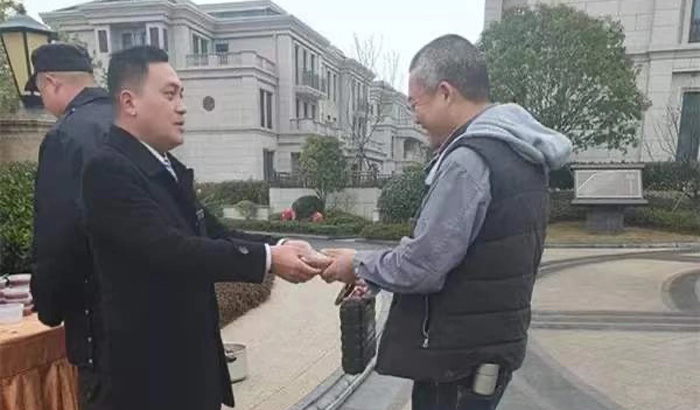 "Let Laba Porridge Warm Your Heart." Many service centers of Binjiang Property organized the Laba porridge distribution activity which showed their new year wishes to proprietors and also reflected the family-like harmony between property management staff and proprietors.