March 8th is a festival for female. In previous years, the frontline property management staff would give a rose to proprietors on this day. But this year, the epidemic has stopped people from going outside, and most of people, except for work and production resumption, chose to be a soldier at home or be a volunteer preventing and controlling the epidemic. During the time fighting the epidemic, we are raising the flag of responsibility assumption.

For this reason, few people were expecting a surprise of the Women's Day. But, surprisingly many service centers of Binjiang Property still kept the day of women in mind. On the day before Women's Day, Binjiang Property staff appeared at flower shops to buy female proprietors roses to bring them the odor of spring. Everyone is expecting the dark cloud of the epidemic to disperse soon and the spring breeze to come.

At The City Star in Hangzhou, 300 roses were prepared by the service center. On the morning of Women's Day, handsome order team members held a large bunch of roses and gave them to female proprietors in the park. Some male proprietors also received roses because they wanted to give it to their mother and beloved wife by themselves.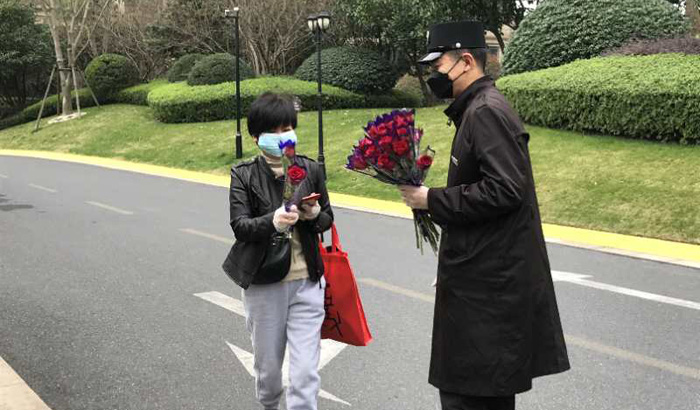 At Xinjun Building and Golden Garden, frontline property management staff prepared not only roses but also disinfectants and sanitizers, which are the most precious things nowadays, for female proprietors. Such attentiveness and thoughtfulness soon gained the favor of female proprietors. Many of them posted this on WeChat Moment, and one even told that, "I'm too happy to post it today."

Female frontline property management staffs of Lake Villa, Golden Dawn, Jinhua Golden Landing and some other projects also received a rose on the epidemic battlefield on March 8th. With the rose held in hand, they themselves are the most beautiful but also powerful roses.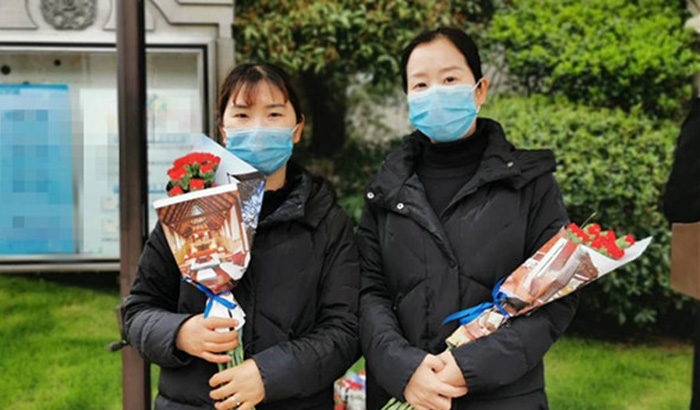 "We want to send some warmth and encouragement to those female soldiers standing fast to the frontline positions, because it is them who have been busy disinfecting, examining, publicizing and fulfilling their duties on the front line. They are the most beautiful people walking opposite the majority. This bunch of flowers also encourage us to fight for a better life", said director Chen of service center of Jinhua Golden Landing