Awarded "2021 Top 100 Property Management Companies in China", Binjiang Property Strives to Contribute to a Beautiful Life of Proprietors
Awarded "2021 Top 100 Property Management Companies in China"
Binjiang Property Strives to Contribute to a Beautiful Life of Proprietors
Organized by China Index Academy and China Real Estate Top 10 Research Team, and undertaken by CIH and China Index Academy, the "Research Results Release of 2021 TOP 100 Property Management Companies in China & The 14th Top 100 Chinese Property Management Entrepreneurs Summit" was solemnly held on April 22nd, 2021 in Beijing.
Hangzhou Binjiang Property Management Co., Ltd. was awarded 2021 Top 100 Property Management Companies in China and ranked 17th, 9 places higher than in 2020. It was also ranked the 2nd in comprehensive strength among Hangzhou property service enterprises in 2021. At the same time, Binjiang Jiangnan Star and Binjiang Xixi Star under its management and control won the title of "2021 China Five-Star Property Management Project".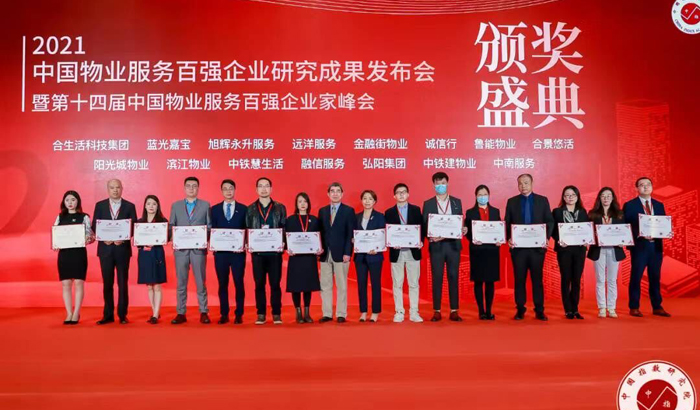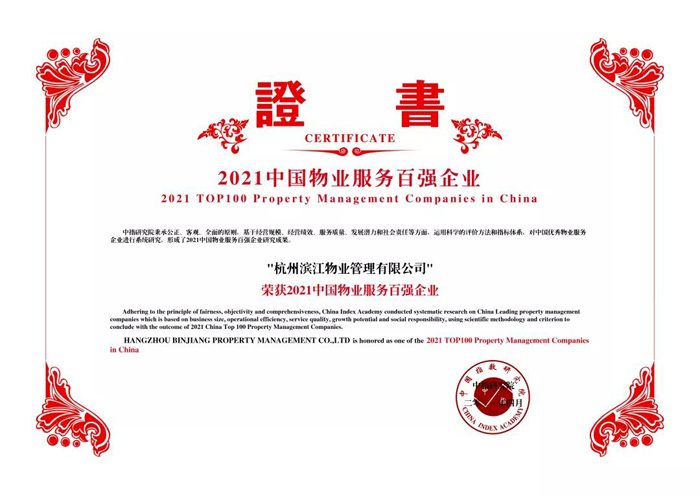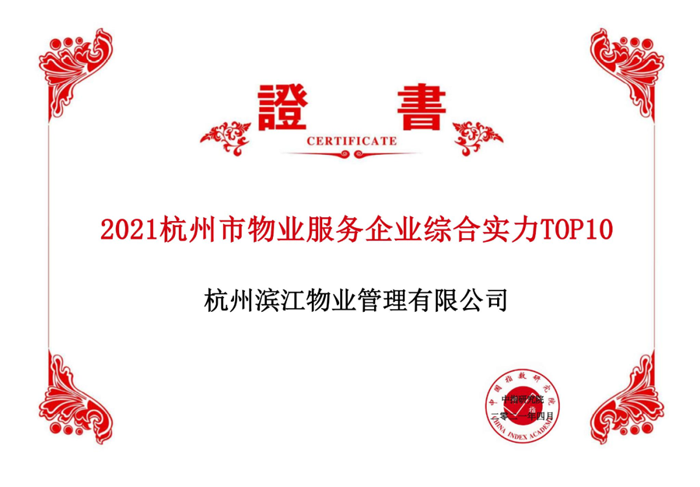 The performance of Binjiang Property in 2020 is remarkable. Based on its high service quality, Binjiang Property put continuous efforts to strengthen its core competitiveness and realized rapid and steady business growth while keeping scale, profit, and quality balanced.

In 2020, Binjiang Property realized the annual business income of 960 million, which is 36.8% higher than in 2019. Also, the management area and the contractual area have respectively increased to 20.0 million square meters and 35.5 million square meters, achieving the year-on-year growth of 38.9% and 32.4%.

In term of management area, the proportion of non-Hangzhou management area of Binjiang Property in Zhejiang has continued to increase in recent years and has reached 38.5% in 2020, which further enhances the impact of Binjiang Property within Zhejiang Province. Meanwhile, Binjiang Property keeps strengthening its marketing ability, and the management area of third-party expansion takes up 34.7% of total management area.

While gradually reducing its dependence upon Hangzhou market and its brother company Binjiang Group, Binjiang Property further enriches its management formats and has integrated temporary dwellings, parks, and factories into its management scope within the performance period, marking its entry into a new urban service field.

What the business scaling up brings is steady increase of profit. In 2020, Binjiang Property gained the gross profit of almost 300 million yuan, which is 50.9% higher than in last year.

The net profit reached 220 million yuan, creating a year-on-year increase of 91.7%, almost double of the previous year and much higher than the increase of gross profit. Both gross profit rate and net profit rate reached a new peak of 31.0% and 22.9%, demonstrating the improving profitability of Binjiang Property.

Binjiang Property has officially launched its direct secondhand housing platform named Binjiang Youjia. The platform covers all buildings and mansions under Binjiang Property's management and provides secondhand house selling, house leasing, certificate handling service by integrating extensive secondhand housing resources and firsthand housing customer resources.

Binjiang Property also has a strong sense of social responsibility and has organized numerous public welfare activities such as alleviating poverty and supporting farmers, claiming highland barley, and donating books. It also attaches great importance to building of a homelike atmosphere and has produced outdoor movie festival, community social events and other activities for such purpose.

Always bearing the service philosophy of "Wholehearted Service Loving Home" in mind, Binjiang Property takes "Creating a Better Life and an Easeful Home" as its business vision, and strives for a higher level of professionalism, normalization, and standardization. Committed to becoming "the Leader of Property Management Brands and the Setter of High Quality Standards", it pursues loving and warm property management service, actively explores innovative and smart service, strengthens its sense of industrial responsibility and mission, devotes to improving proprietors' sense of gain, happiness, and security, and make efforts to promote the value of the whole industry.