"Memorize Martyrs and Review Original Intention" Binjiang Property Party Members Studied CPC History
To celebrate the 101st anniversary of the founding of the Communist Party of China and further mobilize Party members to study the history of the CPC, the "July 1st Themed Learning Meeting" of Binjiang Property Party Branch was held at Hangzhou Revolutionary Martyrs Memorial Hall by the Qiantang River on July 1st, 2020 to memorize revolutionary martyrs and inherit and carry forward their spirits.
"Memorizing martyrs and reviewing the original intention", we should inherit the spirits of martyrs, transmit civilization, spread the hope of prosperity, and impart progressive thoughts. At the memorial hall, Party members of Binjiang Property reviewed the founding of the CPC, the Great Revolution, the Agrarian Revolution, the War of Resistance against Japanese Aggression, the War of Liberation, the Socialist Revolution, and the Socialist Construction. Following the timeline, the memorial hall showed the heroic deeds of over 2500 martyrs. The deeper Party members went inside, the more impressed they were.
They said that it is so lucky of them to have countless noble-minded patriots who have devoted their youth and even lives to the happy life we have now. Later, all Party members reviewed the Party admission oath at the Oath Hall on the second floor. "It is my will to fight for communism for the rest of my life and always be prepared to sacrifice my all for the Party and the people." The oath inspires and encourages Party members to stick to their positions, constantly improve their professionalism and service level, and commit to and practice the fundamental purpose and original intention of wholeheartedly serving the people.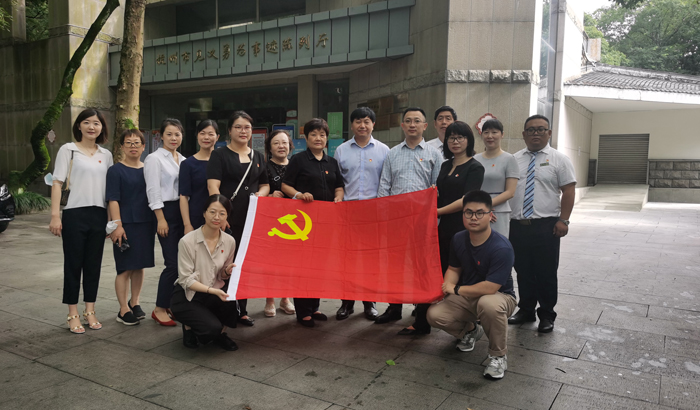 This activity gave Party members a chance to have a deeper understanding of the history of the CPC and the great contributions and sacrifices countless patriots of high ideals have made to the development of China under the leadership of the Party. Reviewing the history and memorizing martyrs is also a spiritual baptism for Party members. We should never forget the enormous contributions made by the martyrs to the Party and the people and the national spirit forged by their blood and lives, should always remember the historical mission we shoulder and forge ahead with the original intention borne in mind.