Voluntary Blood Donation of Party Membrs of Binjiang Property Added a Special Touch of Red to the Mid-Autumn Festival
On September 6th, 2022, Party members of Binjiang Property volunteered to donate blood ahead of the Mid-Autumn Festival, demonstrating the image and the sense of responsibility with actual deeds. Party members actively participated in the voluntary blood donation and showed their own value and shared touching moments in life in the practice of love transmission. The warm blood donated will be given to those people in urgent need as the best gift that conveys the sincerest wishes. It added a special touch of red to and warmed up the Mid-Autumn Festival, a festival of family reunion.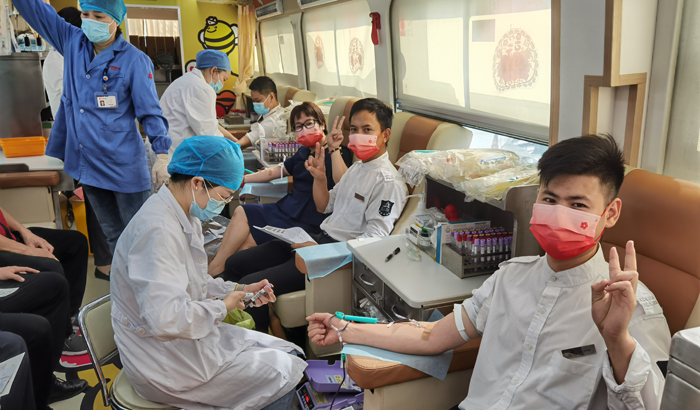 Since the establishment of the Party branch, Party members have actively responded to the call of the voluntary blood donation every year, protecting lives with blood, gathering support with actions, and accumulating strength little by little. Party members fulfill the responsibilities and the commitment as CPC members with actual deeds and keep spreading love and warmth to the society. The Party branch is trying to form the spirit of "glorious voluntary blood donation" for public good and create a good atmosphere of "donation for all". Although a single Party member's blood donation has limited influence, it will encourage a lot more Party members to join the event. It shows the appeal of Party members and also reflects the cohesion of the Party organization. Qualified Party members should be able to motivate not only other Party members but also the masses around them because only by mobilizing and uniting the masses can we create cohesion and centripetal force among the masses
The Party branch secretary of Binjiang Property, on behalf of the company, expressed solicitude and gratitude for Party members who donated blood that day for supporting the voluntary blood donation career, displaying good mental outlook of Binjiang Property workers, and demonstrating the Party member's spirit of assuming social responsibilities and serving the society.
This time, the total blood donation of Binjiang Property's Party members is 1680ML. The voluntary blood donation gives Party members' a deeper understanding of the true meaning of "staying true to the original mission" and further strengthens the ideals and beliefs of Party members as well as their Party consciousness and sense of responsibility and mission. As the epidemic control still requires rigorous efforts, we are supposed to deliver the strongest epidemic-fighting force and hold up the hope for winning the battle against the epidemic. We are willing to contribute our love and blood to the epidemic control to guarantee the medical use of blood for and protect the lives of patients with acute severe illness.