Binjiang Property Made an Attempt to Introduce "Gingko Service" Elderly Company Plan This Autumn
According a set of data from the press conference of National Health Commission in September, by the end of 2021, the population of the elderly at 60 and above has reached 267 million, accounting for 18.9 percent of the total population, and the population of the elderly at 65 and above has reached 200 million, accounting to 14.2 percent of the total population.
The data implies the increasingly serious condition of population aging in our society. As property management staff who are members of grassroots service group, we should have enough knowledge about all kinds of service demands that arise from current society aging situation and take active measures correspondingly. To better serve and show our respect to the elderly, we now must focus on living service and cultural service at once.
First of all, we should be aware of problems that elderly proprietors in may encounter in residential quarters served by Binjiang Property. A quick survey makes it clear that service requests that property service centers and stewards received from elderly proprietors cover all aspects of life, including installing barreled water, delivering express packages, repairing and troubleshooting, plant trimming and watering, accompanying them to hospitals, receiving medicine, buying food, and reducing loneliness, etc.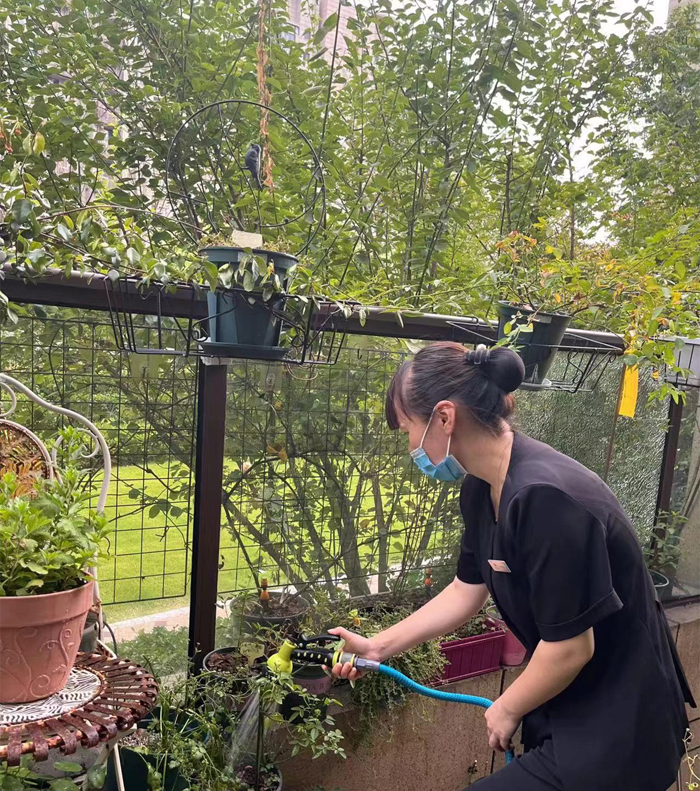 Then how to Binjiang Property's service centers carry out living services for elderly proprietors?
In residential quarters such as Emerald Coast and Yunheting in Hangzhou, property management staff visit elderly proprietors regularly every month to collect information about their living needs. Most elderly proprietors are suffering from chronic diseases. Thus, property management staff will remind them to timely wear properly to against catching a cold, especially at the time of season changing. Many residential quarters of Binjiang Property have been providing convenient service for many years. Convenient service is a star event among community activities and includes knife grinding, shoes repair, umbrella repair, haircutting, oral examination, blood pressure measurement, traditional Chinese medicine, and other service items closely related to life and health. Some service items that are rare to see in other places are still alive here. For its convenience, close connection with life, and protracted nature, convenient service is especially popular with the elderly.
"We will try out best to satisfy whatever service demands of the elderly," said property management staff of Hangzhou Yupinwan when talking about their expectations for their service for elderly proprietors. According to the statistical data of the project, Yupinwan now has about 300 elderly proprietors over 65 years old. How to bring happiness to those elderly proprietors during festivals? Yupinwan is an example of Binjiang Property's adherence to the tradition of Double Ninth Festival. On that day, stewards of Yupinwan delivered two bags of longevity noodles and two longevity peaches to each of those 300 elderly proprietors over 65. Besides, elderly proprietors in Hangzhou Haiyujinghua also received longevity noodles and longevity peaches, as well as a bunch of carnation; and the elderly in Hangzhou Emerald Coast were given not only longevity noodles and longevity peaches but also Double Ninth cakes specially prepared by stewards.
Many residential quarters in Quzhou offered free haircutting for elderly proprietors. In Quzhou Wangu Honor Signature, the property service center organized the "You Were There When I Grew Up, I Am Here When You Grow Old" free hair cutting for charity purpose. Barbers invited by the service center carefully trimmed hair of over 30 elderly proprietors, including one who's 86. It was a wish of those elderly proprietors to enjoy the festival refreshingly. For property management staff, the convenient haircutting service and the cultural events they organized on the festival and their daily care and deeds to address the elderly's needs are both notes that compose a beautiful movement of elderly service.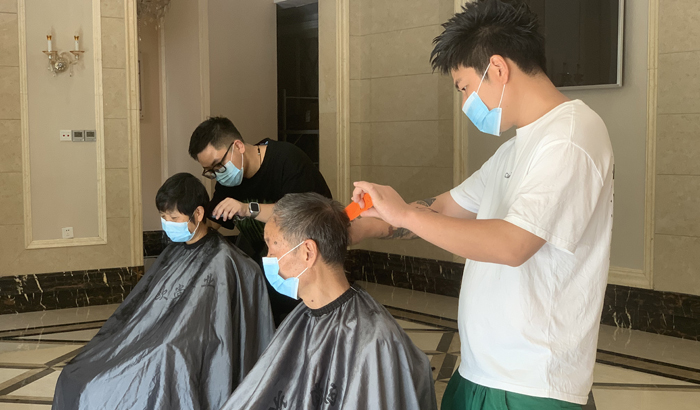 To satisfy elderly proprietors' demands for cultural life, extend their social circles, and promote communication, service centers of Binjiang Property organized rich cultural activities based on their project features and the actual needs of the elderly. To celebrate the Double Ninth Festival in October, the service center of Hangzhou Riverview Impression organized a relaxing tour to Daqinggu for elderly proprietors to experience another lifestyle. Property management staff of Hangzhou Central Mansion arranged a paper-cut activity for elderly proprietors and invited Guzheng players for a better festive atmosphere. The lucky bag making activity in Hangzhou Xueyuan Huating enabled elderly proprietors there to enjoy the fun of DIY; a small lucky bag, suitable for a cell phone or some small items, can be a sweet companion in their life.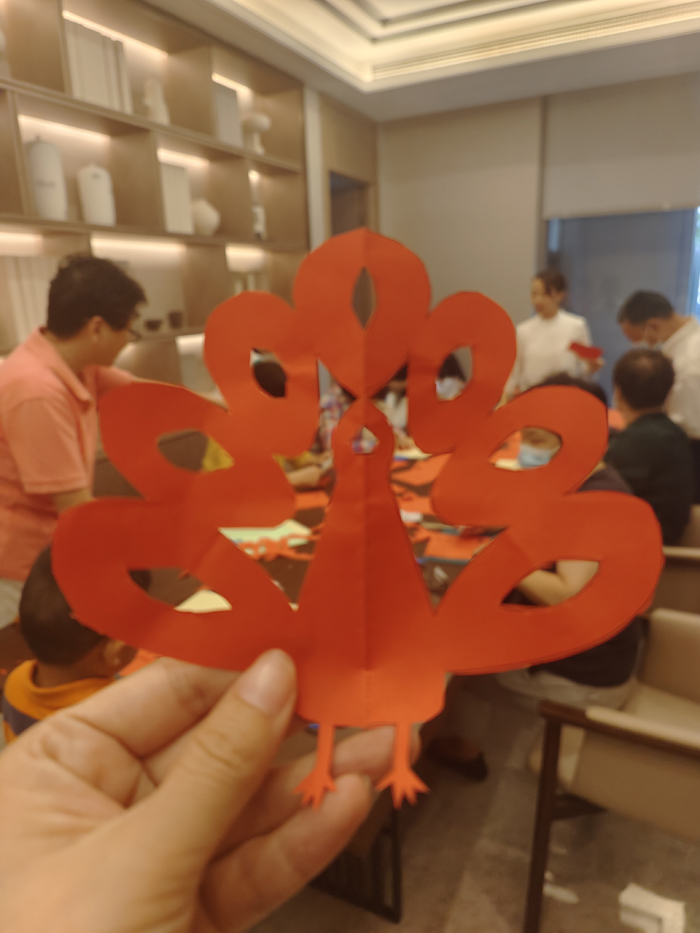 Facing the increasingly prominent problem of society aging, it is a task for the time to care for the life and both mental and physical health of the elderly, especially those who live alone and need more visits and support to address problems in their lives. Therefore, Binjiang Property has been working on the introduction of the "Gingko Service" elderly company plan on the basis of services for the elderly. It encourages property management staff to visit the elderly regularly; to pair up with elderly proprietors living alone to reduce their sense of helplessness and loneliness; to support elderly proprietors to stride over the digital gap and enjoy the smart life; and to organize more community communication events, cultural, artistic, or modern, to improve the quality of life for elderly proprietors.、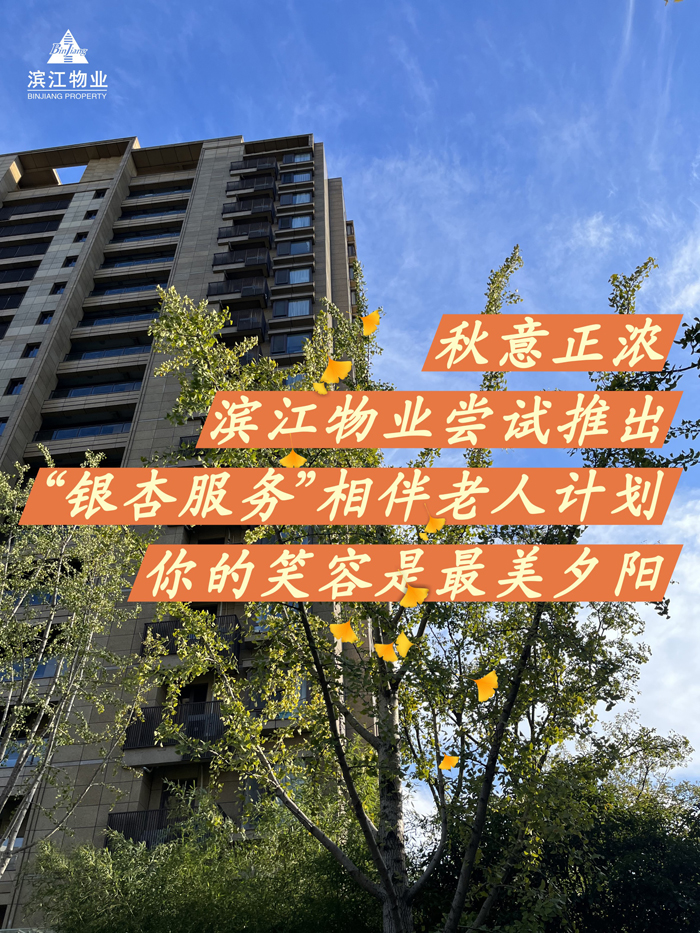 Life needs sunshine even when you're old with grey and grizzled hair and walk with a stagger. To ensure care, support, recreation, and security for the elderly, elderly care requires the attention and action of the whole society. Gingko leaves in late autumn are like golden hearts. We expect more love for the world like gingko leaves strewing the path.