Popular Lantern Wall and Interesting Rabbit Lanterns, Binjiang Property's Proprietors Enjoy an Ancient-style Lantern Festival!
There are lively lantern shows everywhere at the Lantern Festival of the Year of the Rabbit. If you want to celebrate the Lantern Festival and enjoy the festive air, the Lantern Festival events organized by service centers of Binjiang Property are highly recommended. There, you can appreciate dragon and lion dances, welcome the god of wealth, take pictures at the popular lantern wall, make rabbit lanterns, guess lantern riddles, cook tangyuan, and make prints, each of which can become the hottest Lantern Festival event of the residential quarter. What is more fun and interesting than it?
Lantern Festival is also a romantic festival and a perfect time for Hanfu. Wearing Hanfu, carrying a rabbit lantern, and looking back beneath the moon and in the river of lantern, it is like traveling back to the ancient time and becoming the protagonist of the poem "But in the crowd once and again, I look for her in vain. When all at once I turn my head, I find her there where lantern light is dimly shed". Would you like to take such a picture and become the one that people cast glances at?
Popular Lantern Wall
The property management staff of Hangzhou Double Bay International City spent a whole day creating a beautiful lantern wall made of more than 100 red lanterns. The lantern wall soon gained much popularity and became the best background of proprietors' Lantern Festival selfies. The festival event in the residential quarter was full of traditional and cultural elements and included lion dance, tangyuan distribution by the god of wealth and longevity, hand-held lantern DIY, and lantern riddle guessing. "The Lantern Festival event is very lively. They make a very good festive atmosphere and bring us different experience," said a proprietor. The proprietor committee also recognized and praised the Lantern Festival event for strengthening the relationship between property management staff and proprietors.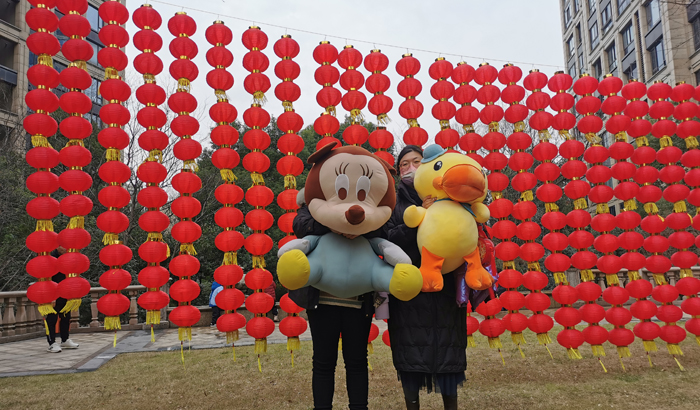 Dragons and Lions Danced to Celebrate Lantern Festival
In Hangzhou The City Star, Golden Coast, Yurun Qiaochaofu, and Yunheting, dragons and lions danced together to celebrate the Lantern Festival. The property management staff sincerely wishes all proprietors good fortune and happiness this spring!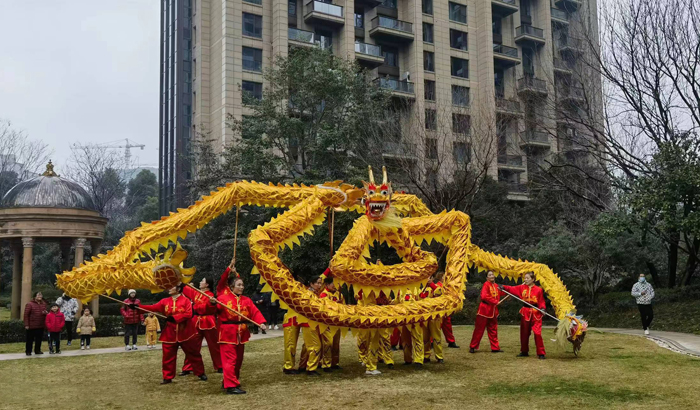 Colorful Tangyuan, Lantern Riddles, Prints, and Elf Rabbit Lanterns
The colorful tangyuan in Hangzhou Yurun Qiaochoufu was very lovely and popular with proprietors; in Hangzhou The City Star, the elderly living alone received freshly cooked tangyuan from stewards; and in Jinhua Golden Landing, old proprietors living by their own were also served by stewards with special Jinhua salty tangyuan that has a small tail symbolizing surplus every year. Before the Lantern Festival, Binjiang Property encouraged proprietors to wear Hanfu for the traditional lantern show. In many residential quarters, children were very excited about and actively participated in riddle guessing, attracting a lot of people. Their cuteness also made them the center of many people's camera. It is a big wish of kids to make elf rabbit lanterns and prints with playmates at the lantern show.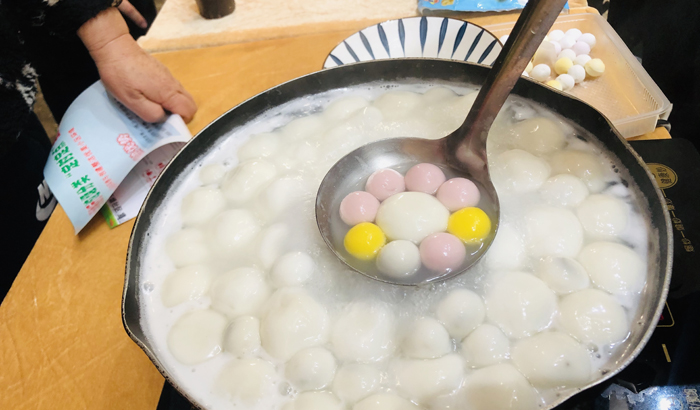 Proprietor Committee's Red Packets for Property Management Staff
On behalf of all proprietors, the proprietor committee of Hangzhou Golden Coast sent New Year red packets with Lantern Festival greetings to property management staff to show their appreciation for all work Binjiang Property's people have done. In the past year, despite the impact of the epidemic, the front-line Binjiang Property staff enthusiastically offered high-quality service for proprietors, winning unanimous recognition of all proprietors. Binjiang Property is grateful for proprietor's support and will continue to improve and growth to live up to the trust of proprietors.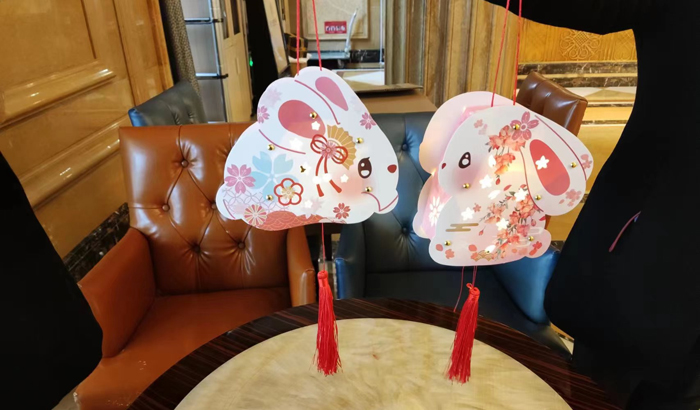 Giant Gashapon Machine
At the "Spring Festival Rabbit, Lantern Festival Joy" festival event organized by the service center of Hangzhou Noble Lake, people guessing the lantern riddles were given chances to get different prizes from a giant gashapon machine, which was very eye-catching and attracted a lot of children.