A Trace of Green for Asian Games: Binjiang Property Sowed the Seed of Happiness on Arbor Day
In March, the cloud-like cherry blossoms and tulips are showing off their beauty to the full, and enjoying flowers becomes a pleasant routine of spring. But, beyond flower seeing, the Arbor Day in March is a great and significant opportunity to raise our awareness of environment protection. To get ready for the Asian Games this year in Hangzhou, Binjiang Property organized the "A Trace of Green for Asian Games" tree planting activity and encouraged its projects to sow the seed of happiness on Arbor Day.
Together with the community, the proprietor committee and proprietors, the service center of Hangzhou Lansong'aofu organized the tree planting on March 11th. To further diversify the flower colors and fruit varieties, the service center and the proprietor committee selected over 20 seedlings including China rose, peach trees, Japanese maple, and hawthorn trees, among which the China rose and Japanese maple were personally offered by Yang Jun, the deputy director of the proprietor committee.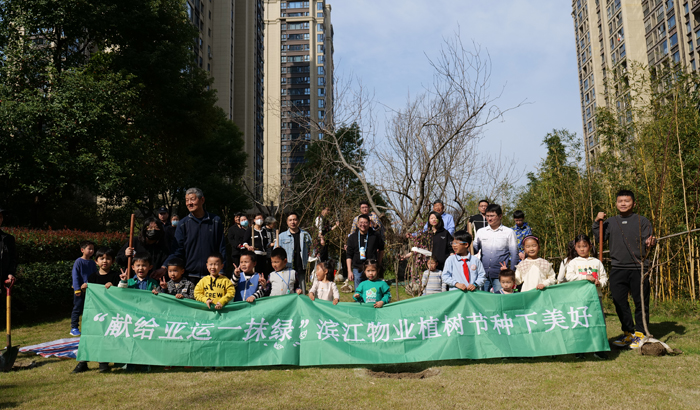 16 families, mostly three-member but also two-child families, participated in tree planting that very day. Every link of tree planting including cleaning up the environment, digging holes, planting, straightening up seedlings, and watering requires a lot of manual work. But the tree planters were energetic and enjoyed the pleasant tiredness brought by tree planting. The kindergarteners were very excited first experiencing tree planting and wished the trees to grow up quickly while watering. "They will grow into big trees when you are grown up," said a property management worker. Nothing's better than seeing children planting, watering, and hanging nameplates with their parents. The proprietor committee planted a hawthorn tree and a peach tree, both of which are poetic and carry people's yearning for a better life.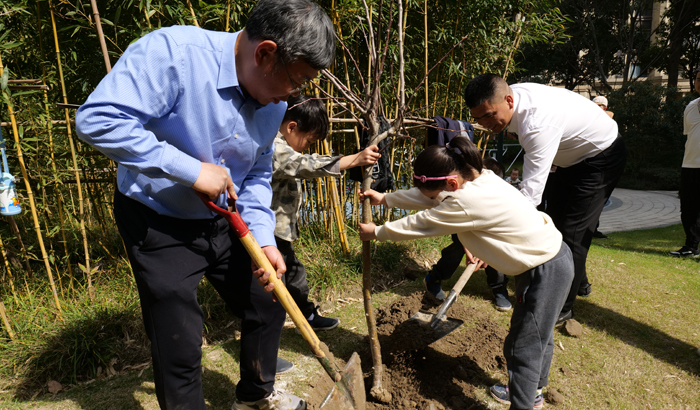 Quzhou Chunjiangyue also answered the "A Trace of Green for Asian Games" call on the same day. With saplings and tools prepared by greening workers beforehand, over 60 saplings of loquat trees, Osmanthus, red tip Photinia, and others. Children were a big part of the tree planting team and were very active yet concentrated despite their young ages. Greening workers guided the whole course and reminded to stamp the soil and water the saplings to the full to help them survive.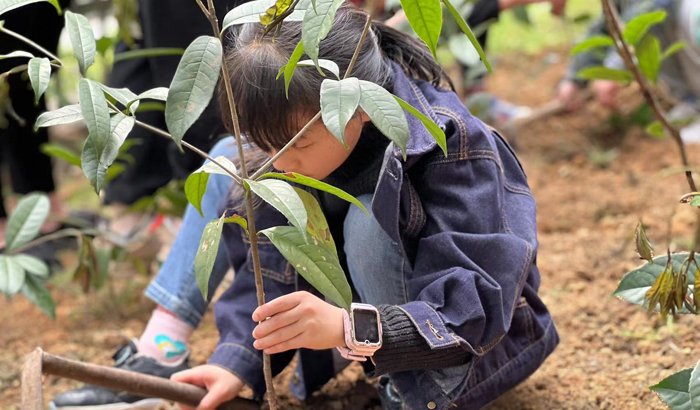 "Trees green Chunjiangyue and spring warms sunny hearts. Wishes sincere planted in March and tidings glad harvested in June." Mr. Zhu made this poem when planting two loquat trees to wish his daughter a good result in this year's high school entrance examination. A child made and hung the "Grow with You" plate on a seedling and said, "I will remember to water these seedlings and grow together with them."
The property management staff and over 30 proprietors of Jinhua Golden Landing planted around one thousand mondo grass, supporting the Asian Games and adding luster to the common home with their environment protection efforts. "The seedlings should be aligned both vertically and horizontally, and the roots should be fully covered by soil so that they can better get nutrition from the soil ," said a proprietor when talking about the planting experience passed down by his father when he was young. Both tree planting and educating are missions that require efforts of generations and carry the same wish of sturdy growth.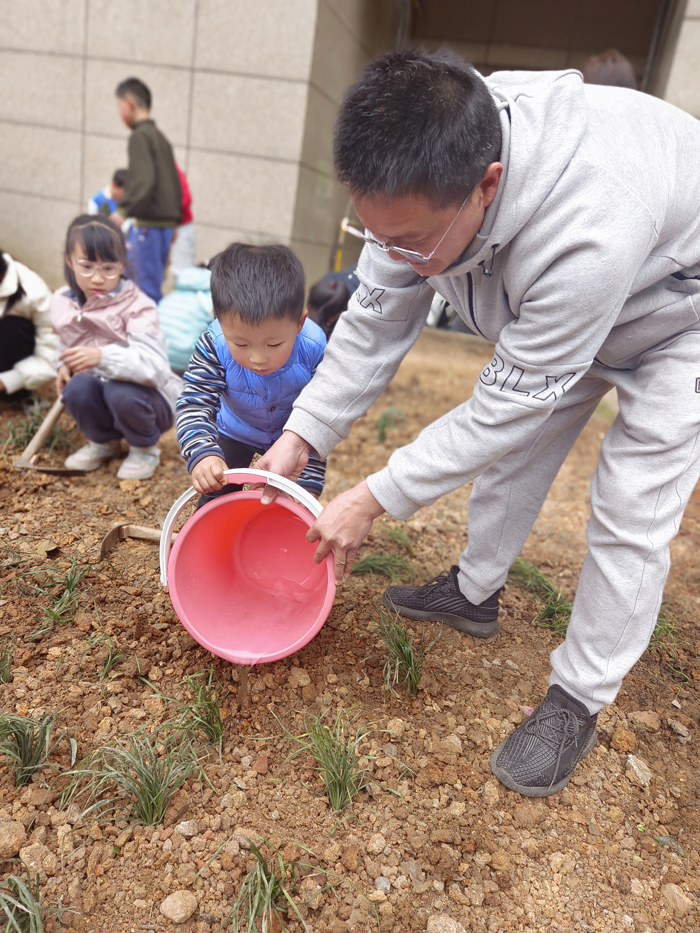 Taking the opportunity of the Arbor Day, Binjiang Property, together with proprietors, love, plant, and protect the "green" and add a soulful trace of energetic green to the upcoming Asian Games in Hangzhou. The seedlings in spring will color and breed hope for tomorrow.