Flowers in Cups, Fruit Mix, Books, and Cotton Candy Won the Most Love from Proprietors in the Second Round of Binjiang Property's Flea Market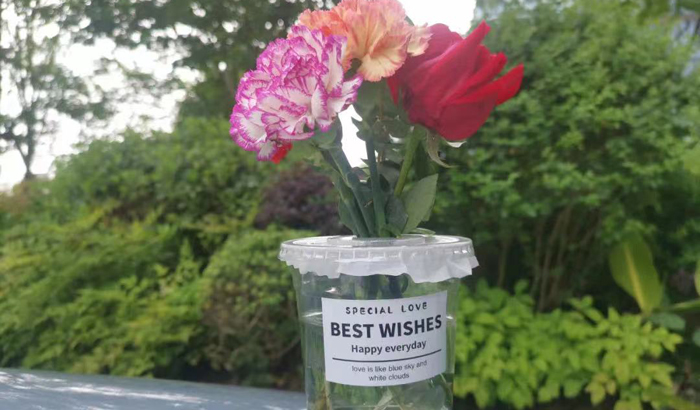 The second round of Binjiang Property's "Asian Games and Environment Protection" flea market came to a successful end on May 14th. Flea market is not only children's favorite, but also a fun way for adults to relax. Some people say that every time when you visit a new city, the most anticipated thing is to visit its local flea market as it is a shortcut to discover the joy of urban life there. So does flea markets in residential quarters.
Flowers in Cups for Mother's Day Caught Eyes in Hangzhou Haiyujinghua
On May 14th, the Mother's Day, most mothers in Hangzhou Haiyujinghua received carnations or roses from Binjiang Property. The property management played something new during the flea market that day. They set up a one-yuan stall to sell flowers in cups as a special Mother's Day event. Flowers in cups were all freshly made on site, and 400 carnations and roses were quickly sold out within only an hour. The goldfish, popcorn, and cotton candy stalls set up by the property management staff were also very popular with proprietors.
Nearly 30 proprietors joined the team of stallholders and many of them did make several transactions. Despite the number of transactions completed, the success itself was cheerful enough. Fun things are always the most welcomed. One proprietor achieved amazing result, selling more than twenty car models, each at 25-50 yuan, and announced close at around ten o'clock. At the flea market, a loving proprietor put up a poster that says "Juci, the Intangible Cultural Heritage" and helped repaired six ceramics for neighbors for free. Juci is a Chinese traditional ceramic and porcelain mending and restoration technique. The proprietor possesses this technique and displayed some exhibits that day. Although none was sold, the flea market gave him the chance to reveal his special skill that his neighbor had never seen before.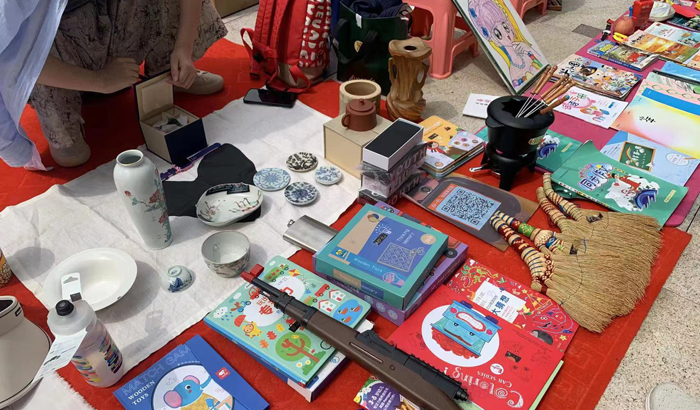 50 Cups of Fruit Mix Sold in Ningbo Fenghua Nuoshang Mansion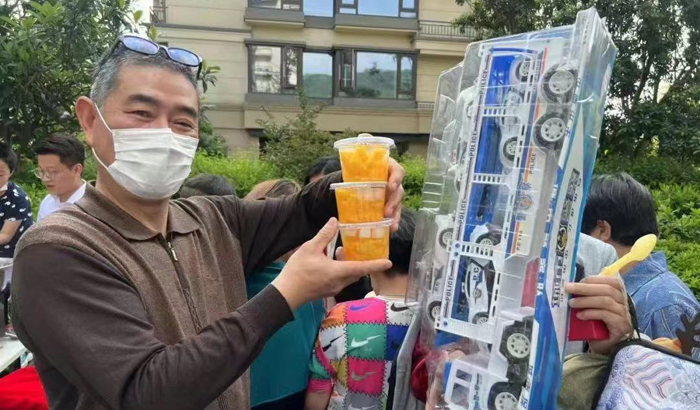 In Fenghua Nuoshang Mansion in Ningbo, the fruit mix stall was every popular and sold 50 cups, 2 yuan for one and 5 yuan for three. To also enjoy the fun of strolling around the flea market, the stallholder asked a young man to help sell fruit mix for her. The young man worked very hard and soon sold all stocks out. His good performance was also rewarded with a succulent from another stallholder to be his Mother's Day gift for his mother.
Proprietor in Hangzhou Bofeng Longyue Mansions Supported Reading Freedom
1 to 10 Yuan for Each Book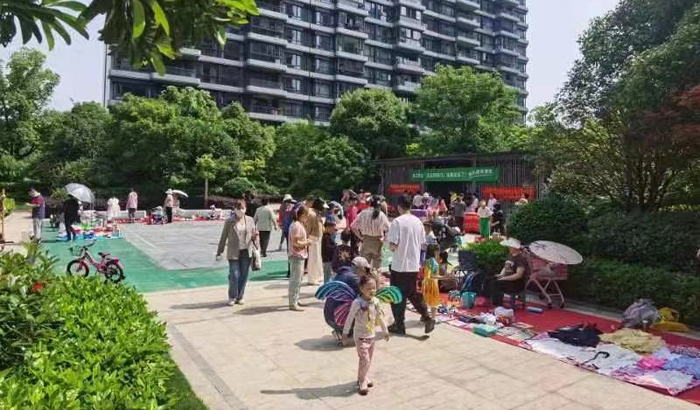 At the flea market in Hangzhou Central Mansion Phase I, the CHATGPT poster attracted people to have a GPT experience at the cost of only ten yuan, artisanal coffee was offered by the coffee shop free of charge, and toys, snacks, paintings, and scripts were popular items in proprietors' shopping bags. In Hangzhou Bofeng Longyue Mansions, books were the best-selling items. The stallholder priced the books 1 to 10 yuan each and earned over 280 yuan in a day, which was a pretty impressive result.
In Hangzhou The Royal Palace, a proprietor prepared the prize-giving ring throwing game to give away idle articles to neighbors in the form of prizes, fully embodying the concept of environment protection and sharing and winning praise from neighbors. In Quzhou Chunjiangyue, we saw a kid attracting customers in Hanyu, a stallholder selling boos and giving away DIY fans, and many stallholders crying out for customers. Every "boss" at the flea market had their own business tricks.
Proprietor in Shanghai Park One Made Cotton Candy, 2 Yuan for Each
Most Marketable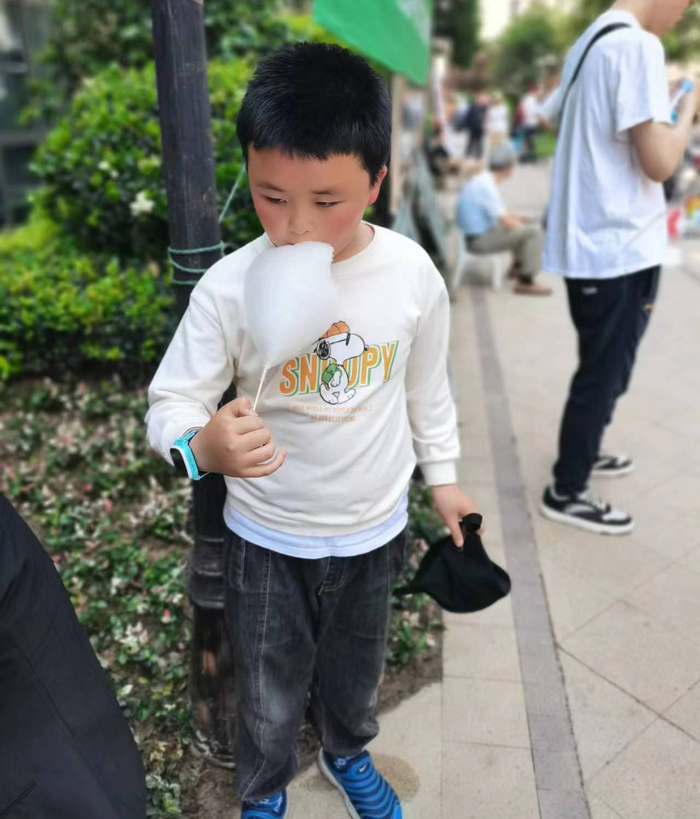 Stallholders in Hangzhou Park One set up their stalls very early and provided toys, clothes, picture books, and small accessories for customers to choose from. The two-yuan cotton candy was the favorite of children. Proprietors all suggest a larger venue for flea market next time to allow more children to experience the fun of selling stuff, build their courage, and earn some pocket money.
In the first round of Binjiang Property's "Asian Games and Environment Protection" flea market, proprietors showed their passion for the event. In the second round, the passion did not at all diminished. They enjoyed it to the full as both stallholders and customers. Centering around the theme of environment protection, this event enriched proprietors' weekend life and also offered a chance to get some extra pocket money. "We want another one and more." These are the most frequent words heard by property management staff after the event.
See you at next fashionable, interesting, and environmentally friendly flea market!